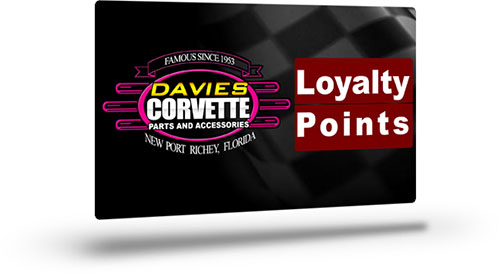 About Davies Loyalty Points
Our loyalty points program is a free program that rewards you for the purchases made through our website. For every penny you spend on qualifying purchases, you'll earn 3% in points. Points will be awarded once an order ships. Once awarded, your points are available for immediate use!
---
Join Now. It's Free!
To join, just set up a Davies account. You can log in or sign up here. Once you have an account, you'll start earning points right away. If you already have an account with us, you'll start earning points on all new orders. Nothing else needs to be done! As always, we will not share or sell any of your account information to marketers.
Loyalty points can be earned and spent on any online purchases through our website. Most products will earn 3% of every penny spent. Cores, shipping, and additional fees will not earn points. Loyalty points can not be earned or redeemed on phone orders, but don't let that stop you from calling us for product information or confirmation of fitment. We're always here to help!
No nonsense points.
Earn 3% points on every cent of every eligible purchase. Even when using points.
Even when lowering your balance by applying points, you will still earn full value points on that order. You will always earn the same amount of points on an order whether you applied points to the order to lower the balance or not. Some items will not earn points (Part core fees, shipping, etc.).
Earn at least 100 points no matter what.
No matter what your order total is, you will always earn at least 100 points.
Every point lowers the balance of an order.
No matter how much an order is or how many points you have, you may use your points to lower it's balance. Every point will lower the balance by a penny and the balance can be reduced all the way to zero!
No coupons that expire. No codes. Just savings.
We won't send you coupons with long codes that need to be used in 30 days or expire. If you wish to use the points you earned on your next order or save them up for a big purchase, it's up to you.